Authors: Marliese Truter, Anja Erasmus, Kerry Malherbe, Nico J Smit
Water Research Group (WRG)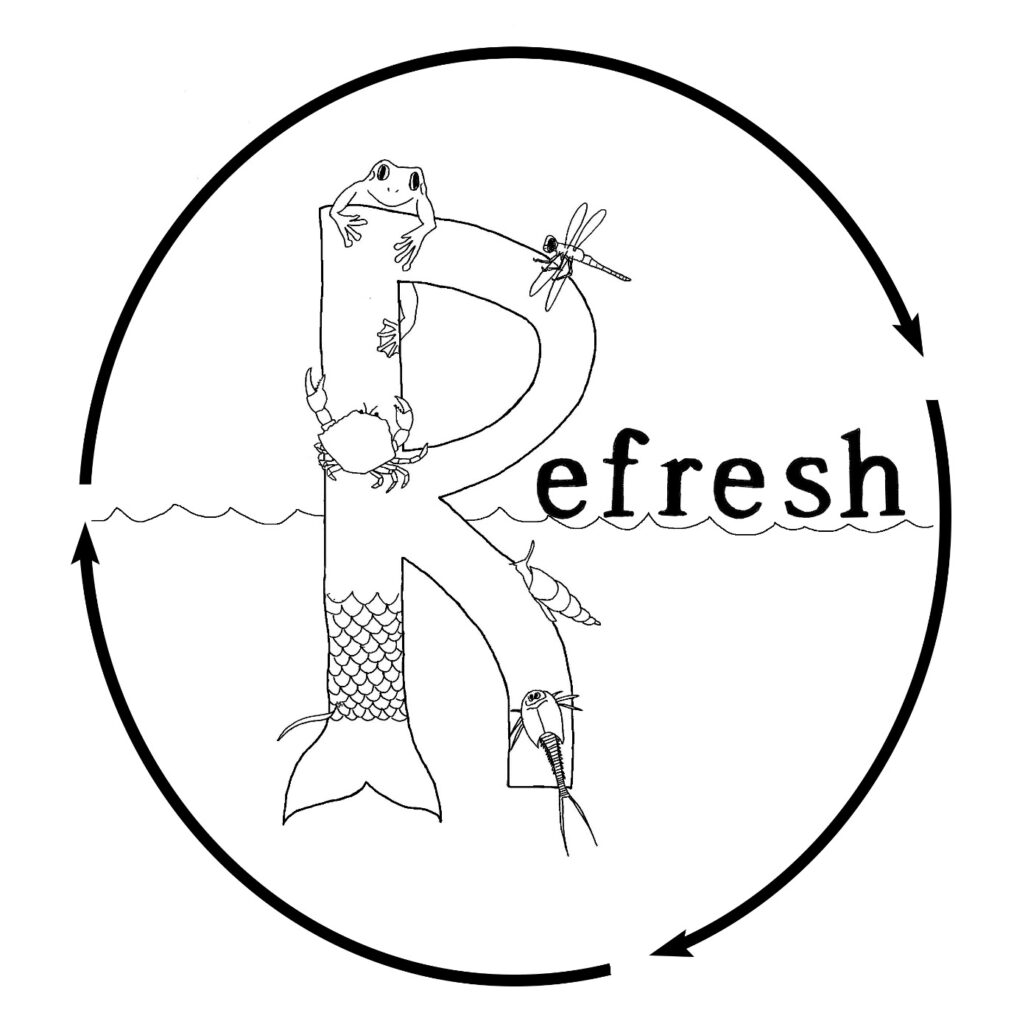 Aquatic biodiversity of South Africa
Did you know that South Africa is a megadiverse country that hosts a range of exceptionally diverse and endemic organisms? Despite having this diverse and unique biodiversity, the most recent National Biodiversity Assessment (NBA) concluded that South Africa's freshwater ecosystems are in a poor ecological condition compared to other ecosystems, and that South Africa's freshwater biodiversity is at a higher risk of extinction compared to its terrestrial or marine counterparts. Of greater concern is that our ±118 freshwater fish species are the most threatened of all the species groups (i.e., plants, reptiles, birds, mammals, amphibians, dragonflies and butterflies) that have been fully assessed. At least 50% of these freshwater fishes are endemic and have an endangered conservation status, highlighting the need for an action plan toward their conservation and protection. Their conservation has however been impeded through incomplete distribution data, outdated data and taxonomic bias, and it is also predicted that freshwater fishes, along with other aquatic fauna will experience an accelerated decline in the near future due to rapid human population growth, climate change, and the concomitant increase in human demand for water.
The NWU REFRESH parasite team with CapeNature collaborators. Left to Right: Dr Marliese Truter, Dr Iva Přikrylová, Linda van der Spuy, Rudolf Gouws, Martine Jordaan and Jeanne Gouws.
REFRESHing knowledge
The Water Research Group (WRG) members, Prof Nico Smit, Prof Kerry Malherbe, Dr Marliese Truter and Dr Anja Erasmus form part of a group of more than 40 co-investigators taking part in REFRESH, a Foundational Biodiversity Information Programme (FBIP) Large Project. This project aims to contribute to information that will inform species conservation in South Africa. The team's main focus is on freshwater fish parasites that live in and on the freshwater fishes of all conservation statuses in South Africa.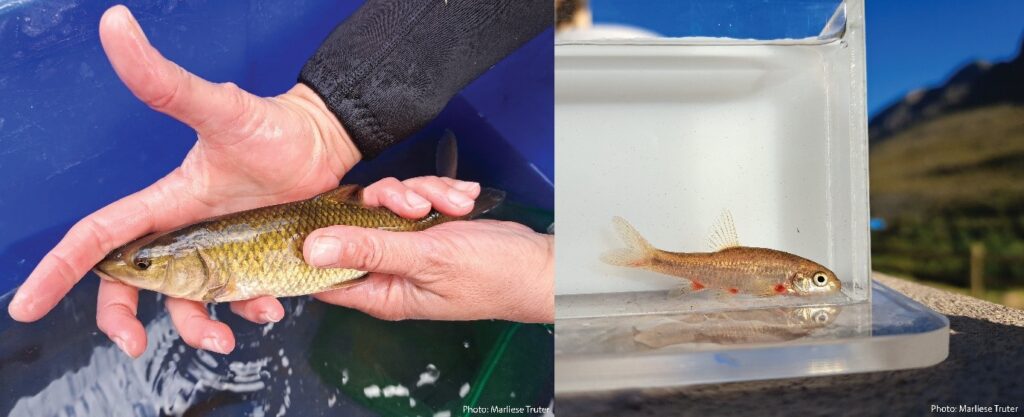 Some of the fish species screened for parasites.

Different developmental stages of the unique gill fluke (Monogenea) belonging to the genus Paradiplozoon.
https://twitter.com/NicoJSmit1/status/1599100208335364096
They aim to develop a complete database of historic, as well as newly collected data across six selected National Freshwater Ecosystem Priority Areas (NFEPAs). This will be achieved by incorporating classical methods for parasitological study and using the approach of a new subdiscipline, the historical ecology of parasitism (see Wood et al. 2023) to contribute to a strategic conservation criterion (see Carlson et al. 2020) for parasitic species. To date, this concept has been excluded from South Africa's NBA, as well as The International Union for Conservation of Natures Red List of Threatened Species (IUCN Red List) (see Kwak et al. 2020) that serves as a critical indicator of the health of the world's biodiversity. Although the presence of parasites in an ecosystem is well known, their contribution to the biodiversity, function and connectivity between trophic levels in ecosystems have in the past been greatly neglected and underestimated (see Dunne et al. 2013). The present research will contribute to increased knowledge of our native freshwater fish parasite fauna, how translocation of extralimital and invasive species contribute to parasite movement, how parasites as specialist and generalist species of their host can be used as a conservation tool for their hosts (see Dougherty et al. 2015), and how to efficiently manage South Africa's freshwater resources (fishes) through knowledge on their associated biodiversity, role, and function.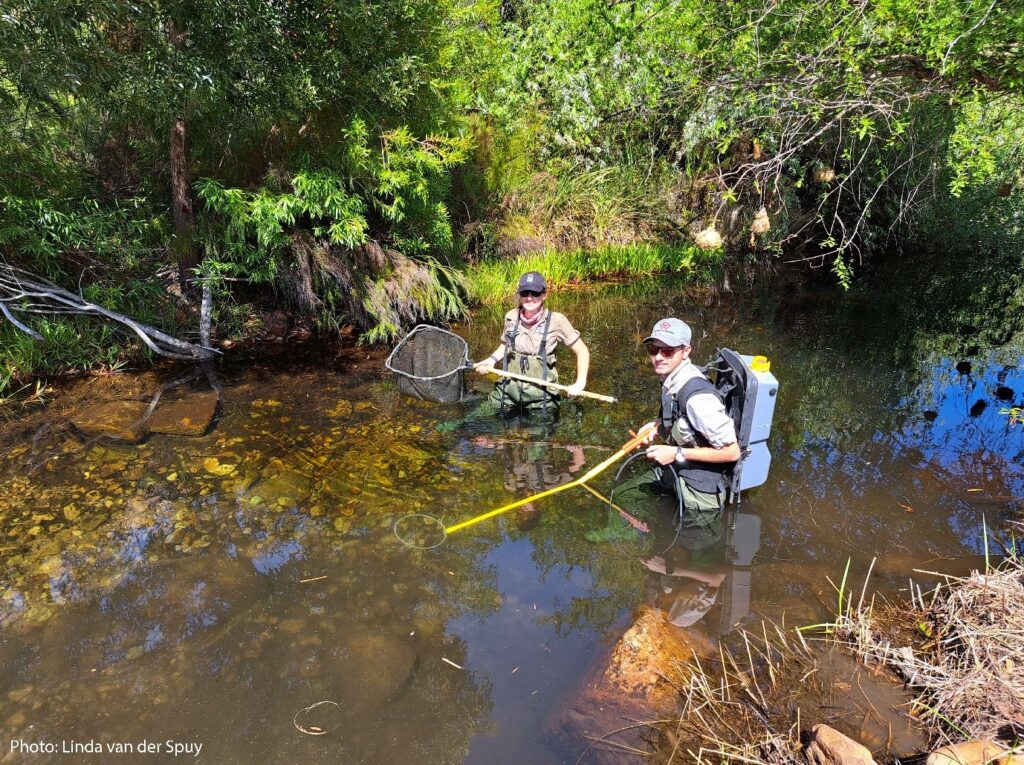 Electrofishing for smaller fish species moving toward shallow and fast-flowing river stretches.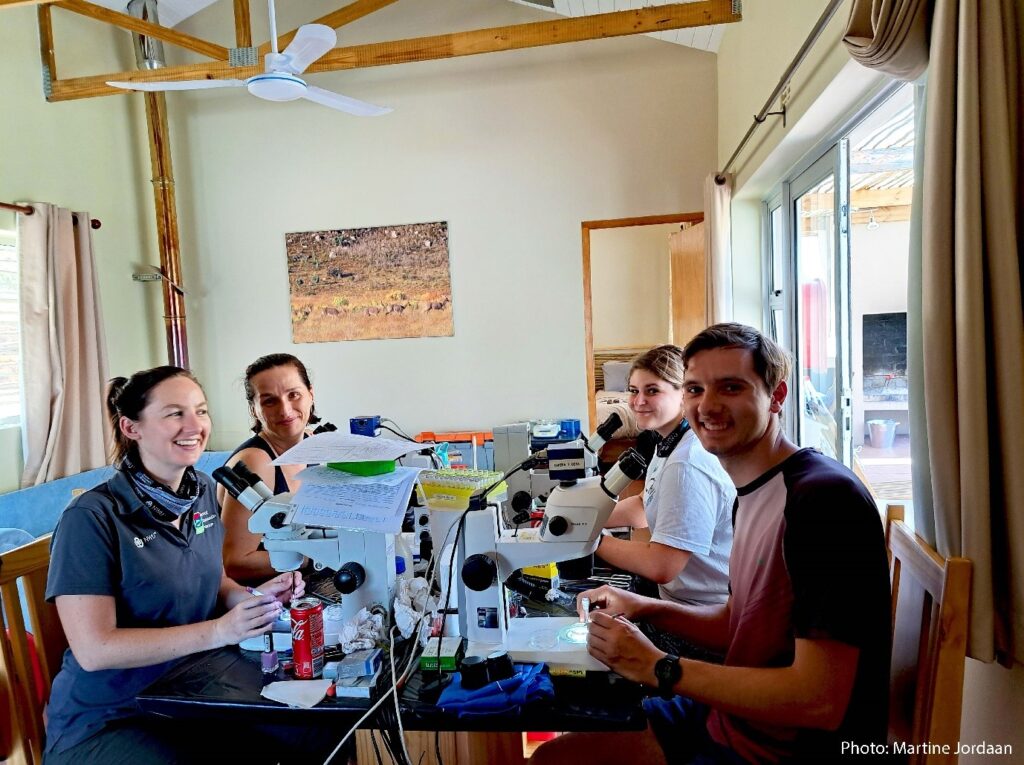 Hard at work behind the microscopes.
https://twitter.com/NicoJSmit1/status/1600359922130046976
The 2022 milestone for the WRG was its first dedicated trip in collaboration with CapeNature to investigate freshwater fish parasite diversity in the Olifants-Doorn River system. This water management area is situated in the Cape Fold (Western Cape), where the majority of South Africa's endemic and threatened (28 species) freshwater fish species occur. Historically, almost no parasitological data has been collected on the natural fish populations of this ecoregion and a mere three parasitic species records exist from endemic fish that are on the brink of localised extinction. During this fieldwork, representatives of the Monogenea (gill flukes, n = 4); Digenea (flukes, n = 2); Cestoda (tapeworms, n = 1); Nematoda (roundworms, n = 10); Acanthocephala (spiny-headed worms, n = 1); Copepoda (crustaceans, n = 1) and Protista (ciliates, n = 2) were found parasitising eight endemic freshwater fish species, all which are new to the known parasitological fauna of South Africa.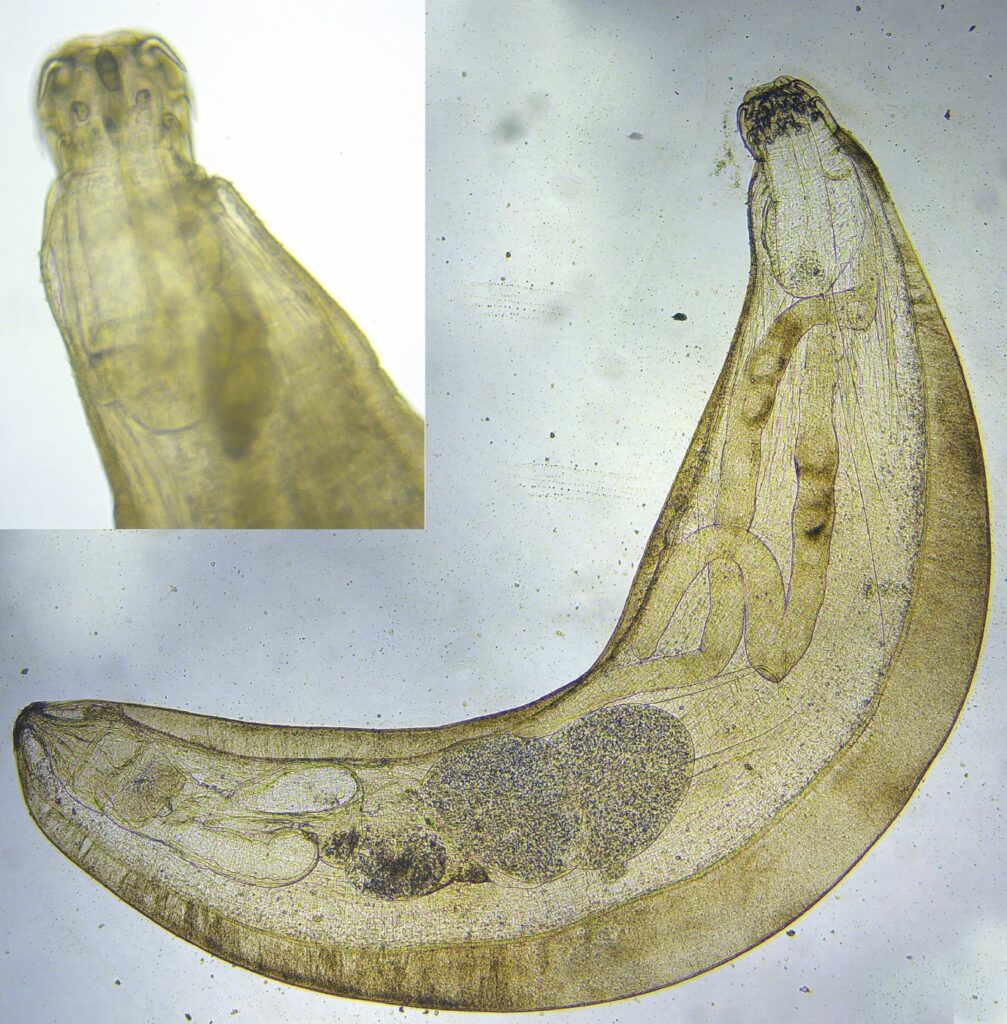 Acanthocephalan (spiny-headed worm) and a closer look at its attachment hooks (top left insert).