By: Lucky Dlamini and Dr Chantel Elston
The first-ever Plett Marine Science Symposium took place from 1 – 3 July 2022 to celebrate Plettenberg Bay's most beloved treasures: our ocean, marine life, and beaches. The three-day marine science symposium included a variety of ocean-themed events with a strong conservation theme.
What lives in the Keurbooms estuary? was one of the leading presentations that sold out with over 100 attendees at the talk presented by Dr Chantel Elston, Postdoctoral Researcher at the South African Institute for Aquatic Biodiversity (SAIAB). The Keurbooms is an estuary in the Western Cape Province of South Africa that runs through Plettenberg Bay. Estuaries are important ecosystems providing many benefits to life on earth, particularly as nursery areas for resident and migratory fish to rest, feed and reproduce. They are also equally important as areas of aesthetic, educational, spiritual, and scientific value.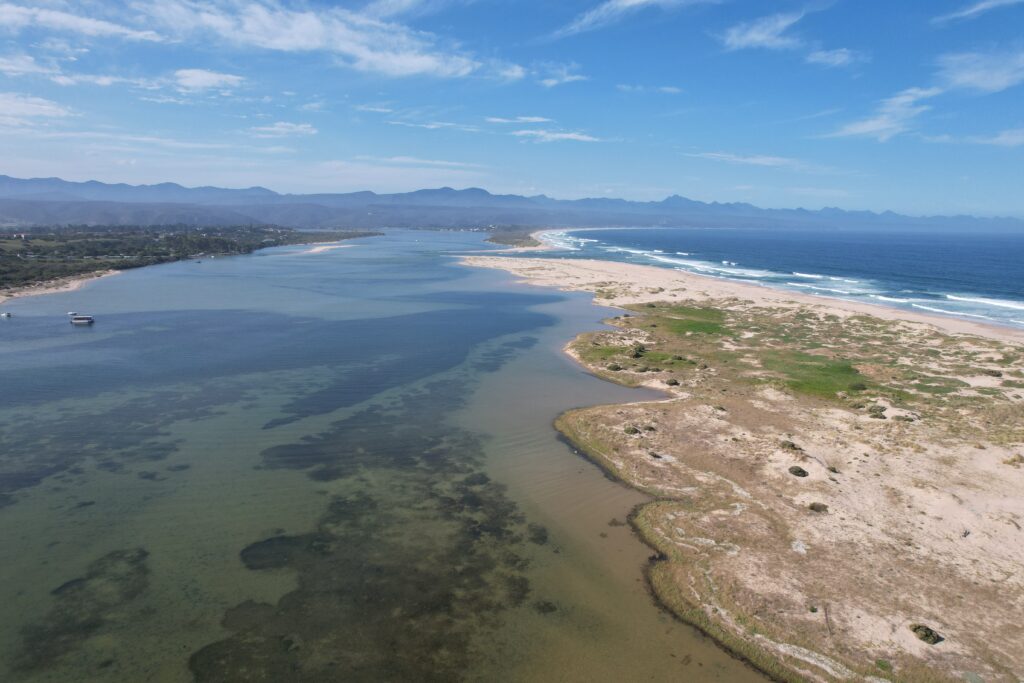 SAIAB and the Ocean Research Conservation Africa (ORCA) Foundation are working on a collaborative project to find out what fish species live in the Keurbooms estuary. To do this, the research team have been deploying a Baited Remote Underwater Video System (BRUVs) in the estuary almost every week since April 2021. This BRUVs equipment includes a weighted rig with a GoPro camera and bait bag attached to the ends of the equipment. It is placed on the ocean floor for an hour to attract whatever animals are nearby to the camera system, which records it for the research team to later identify.
"Through waters of all different colours, clear blue, murky green and even dark red, this project has discovered some amazing life living in the Keurbooms estuary. To date we have identified 25 different species of fish, sharks, stingrays, octopus and cuttlefish and I'm sure this list will continue to grow. One of the most exciting findings has been the year-round presence of a critically endangered stingray species, suggesting this estuary is an important safe haven for it," said Dr Elston.
Dr Elston's presentation showed some exciting underwater footage from this collaborative project, revealing the different kinds of animals that lurk below the surface of the Keurbooms waters. "The talk was so well-received. I can't believe it was attended by so many people and it was truly wonderful being able to share my research with so many passionate and interested Plett locals," said Dr Elston. The proceeds of her presentation were donated to the ORCA Foundation.
______
Dr Elston will be giving this presentation again as part of the SAIAB Seminar Series on Thursday, 4 August 2022 at 10:30am. The Zoom registration link will be shared closer to the time.
About Dr Chantel Elston
Dr Chantel Elston is a passionate marine scientist and science communicator. She is mildly obsessed with stingrays and her PhD work focussed on identifying an important stingray nursery in Seychelles which was declared as a Marine Protected Area.
Now, her postdoctoral research at the South African Institute for Aquatic Biodiversity has brought her to the beautiful Garden Route, where she is studying the stingrays of Plett's very own Keurbooms estuary.
She also runs an exciting citizen science project called ELMO Africa which encourages everybody to submit their own sightings of sharks, rays and mermaids purses to aid in their conservation.