The NRF-South African Institute for Aquatic Biodiversity (SAIAB) is proud to welcome Arcénia Chivale, a distinguished zoology technician and curator from Gorongosa National Park in Inhambane, Mozambique. Arcénia's visit to SAIAB exemplifies the Institute's role as a thriving hub for international knowledge exchange and collaboration.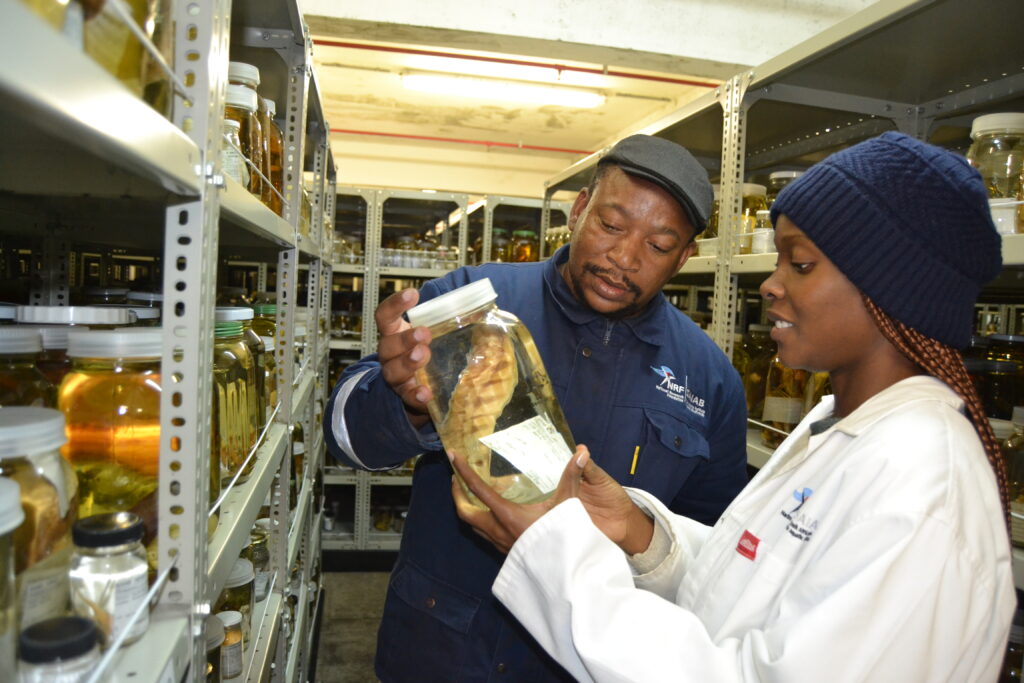 Collections Manager Nkosinathi Mazungula and Arcénia Chivale working in the Collection Management Centre
Gorongosa National Park, a renowned haven for biodiversity in Mozambique, has long been dedicated to the preservation and study of its natural riches. To expand their understanding of the aquatic life within the park, Arcénia embarked on a journey to SAIAB with a clear goal in mind: to acquire expertise in fish sampling and collection management that will contribute to the establishment of a new and comprehensive fish collection at the Park.
A significant aspect of Arcénia's visit is her desire to master electrofishing techniques, a critical method for sampling fish populations. This skill is expected to play a pivotal role in the effective conservation and scientific study of Gorongosa National Park's rivers and the diverse species inhabiting them.
Arcénia spoke passionately about her expectations from her time at SAIAB. "I believe that the knowledge and experience I gain here will be immensely valuable in managing and organising our collection of fish at Gorongosa National Park," she said. "Moreover, the proficiency I acquire in electrofishing will be instrumental in our efforts to safeguard and study the aquatic life within the Park's pristine rivers."
Arcénia's journey to SAIAB highlights the Institute's pivotal role as a global centre for aquatic biodiversity research and knowledge sharing. SAIAB's unparalleled collections of fish specimens and its extensive database provide an invaluable resource for researchers across the globe. It is an ideal destination for scientists working with southern African fishes, including amphibians, tunicates (sea squirts) and cephalopods (squids and octopuses).
NRF-SAIAB's Senior Curator, Roger Bills, emphasised the Institute's mission to extend a helping hand to regions in need of assistance with managing their resources, start their own collection, identifying species, or those who need help to master electrofishing techniques or any other assistance offered in the SAIAB Collections. "We provide facilities for visiting researchers to conduct their studies, offer office space, and access to our rich specimens. We encourage researchers to consider visiting NRF-SAIAB. We consider our Collection as a library where researchers get the help they need," Roger said.
During her stay at SAIAB, Arcénia experienced more than just academic enrichment. She conveyed, "The people at SAIAB have not only been experts in their fields but also incredibly welcoming. It's a friendly environment where researchers can come together and collaborate on projects of global significance."
Arcénia's mission to enhance Gorongosa National Park's fish collections is a testament to the power of international collaboration in safeguarding our environment for future generations. It reinforces SAIAB's pivotal role in advancing scientific research and global biodiversity conservation efforts.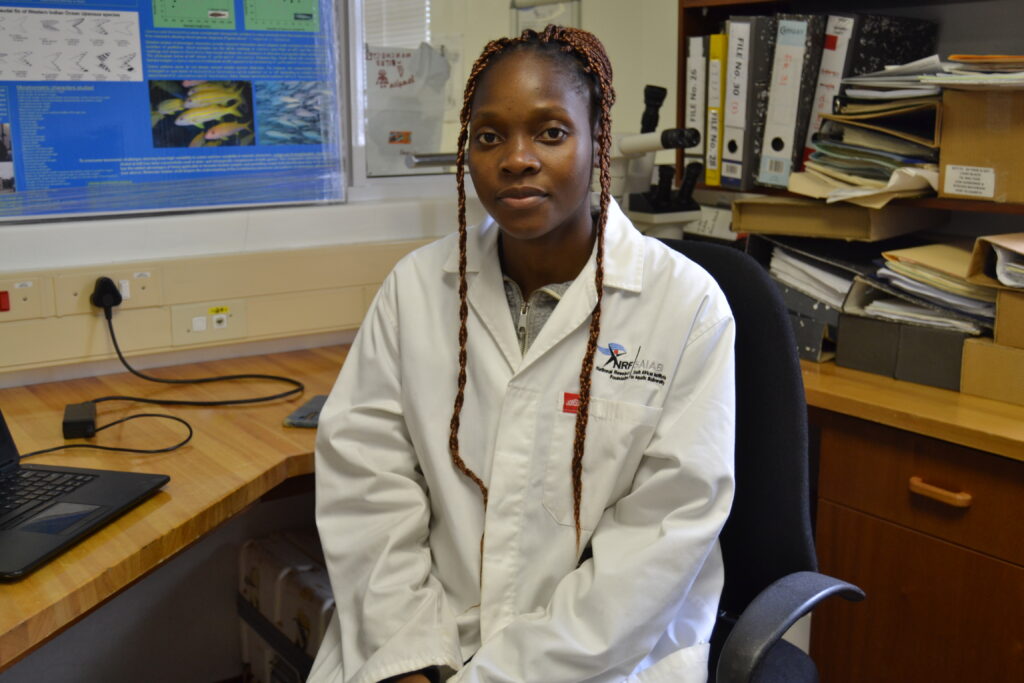 SAIAB Collections Facility invites researchers from across the world to collaborate and work within its state-of-the-art facility. SAIAB actively fosters global partnerships, offering researchers a unique opportunity to tap into its extensive resources and expertise.
As part of its commitment to open access, the SAIAB's Collections data is accessible through the Global Biodiversity Information Facility (GBIF). Researchers interested in exploring the wealth of information and specimens available can access the SAIAB Collections data through the following link: Data – GRSciColl (gbif.org)
For queries about the SAIAB Collections and to loan fish specimens, researchers are encouraged to contact the Collections Manager, Mr. Nkosinathi Mazungula, at collections.manager@saiab.nrf.ac.za using the Material Transfer Agreement. The Material Transfer Agreement form can be downloaded here. For more information and a detailed understanding of the SAIAB Collections Facility and its contributions to aquatic biodiversity research, please visit the Collections page on the SAIAB website: https://saiab.ac.za/platforms/national-fish-collection/