In an effort to foster better employee relations, a pivotal meeting with the National Coordinating and Bargaining Forum (NCBF) was held at the South African Institute for Aquatic Biodiversity (NRF-SAIAB) from 31 July to 1 August 2023, with representatives coming from all NRF Business Units (BUs).
A notable feature of this meeting was its location at the NRF-SAIAB venue, located in Makhanda (Grahamstown), marking the first rotation of hosting venues across the BUs.
NRF-SAIAB Managing Director, Dr Angus Paterson, who offered to host this first rotation meeting for the Forum, said "The rotation strategy serves a multifaceted purpose. Firstly, it facilitates relationship-building among BUs, fostering a sense of unity and shared purpose across the organisation. Secondly, it allows participants to gain insights into the different facilities' operations and cultures, contributing to the development of a unified NRF culture that transcends individual BU cultures. This approach has the potential to strengthen internal cohesion, enhance cross-functional understanding, and promote a collaborative environment within the NRF."
Addressing Key Issues and Paving a Positive Path Forward
The meeting demonstrated a commitment to addressing key topics that affect employees such as the new NRF Service Delivery Model, Remote Work Guidelines, and Career Ladder/Pathing for all employees across the organisation.
Mr Kedirang Oagile, Group Executive: Corporate Services, led the Management delegation in the meeting. Citing some of the highlights from the NCBF engagement he said, "Several matters were dealt with, including the full return to work directive by the CEO. While Labour and Management committed to ongoing engagements on this and other matters, it was generally understood that this decision was in the interest of the organisation's reputational standing with its service recipients".
"Management and Labour took stock of the achievements in the relationship building objectives and agreed to continue with the few out of many commitments that had not been fully achieved," he added. "It is the intention of the parties to endure leadership visibility by occasionally holding the NCBF at the BUs and to strengthen the joint understanding of the operations of the various Business Units, which will support and enhance the quality of engagements and joint decisions and resolution of conflict."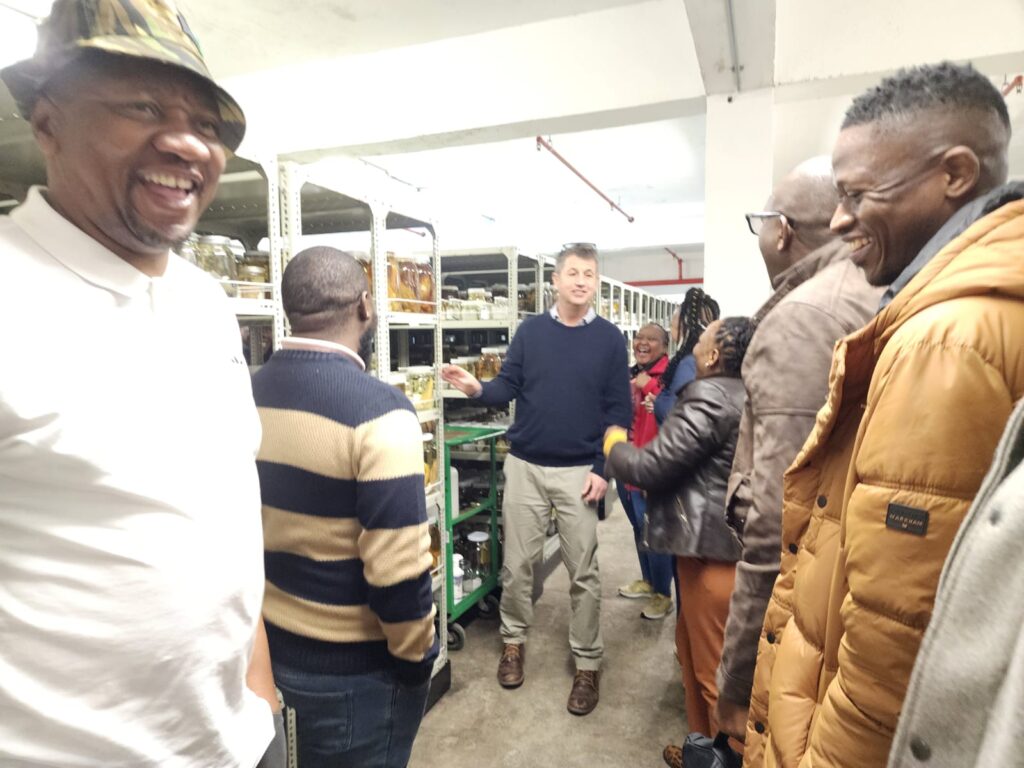 The meeting concluded on a positive note, with many items on the agenda being effectively addressed by both Management and the National Education, Health, and Allied Workers' Union (NEHAWU) representatives. This successful resolution indicates a clear path forward and highlights the effectiveness of constructive dialogue in achieving mutually beneficial outcomes. Mr Solly Legodi, National Organiser who led the Labour team, commended NRF-SAIAB for the amazing hospitality as well as the spirit in which all issues were addressed in the two-day meeting.
Cocktail Evening and Celebrating Success Stories
In addition to the substantive discussions during the meeting, a memorable cocktail evening hosted by NRF-SAIAB provided a platform to celebrate success stories and academic journeys. Four inspiring NRF-SAIAB research members shared their experiences, highlighting the institute's role in their academic and professional growth.
The presenters included Dinah Mukhari, a second-year PhD research student who became a part of NRF-SAIAB after attending a Summer School hosted by the Institute in 2019. Dinah's academic path has been closely intertwined with NRF-SAIAB, as she not only completed her MSc with the facility's guidance while enrolled at Rhodes University but is also currently pursuing her PhD research under NRF-SAIAB's supervision.
Dr Lubabalo Mofu joined NRF-SAIAB in 2013 as a DSI Research Intern with the late Professor Olaf Weyl. He then furthered his studies towards an Honours degree under the mentorship of Prof Weyl, until the completion of his PhD in 2020. Similarly, Dr Mandla Magoro embarked on his academic journey with NRF-SAIAB to pursue his MSc research project in 2012, eventually advancing to his PhD studies within the NRF-SAIAB structure and graduating in 2018. Remarkably, both Drs Mofu and Magoro have now assumed roles as Instrument Scientists within the Freshwater Field at NRF-SAIAB – a testament to their remarkable journey.
Lastly, we had the privilege of hearing from Yonela Sithole, on the cusp of achieving her Doctoral degree. Yonela's connection with NRF-SAIAB dates back to 2011 when she participated in a week-long Winter School during her undergraduate years at Walter Sisulu University. Her journey continued as she joined NRF-SAIAB as a DSI-NRF Intern in 2013, followed by her enrolment in an Honours degree program in 2014 and MSc studies in 2015. In October this year, Yonela will be graduating with her Doctoral degree from Rhodes University, a journey marked by the unwavering support of NRF-SAIAB's researchers and mentors. She has also assumed a PDP Postdoctoral Research position.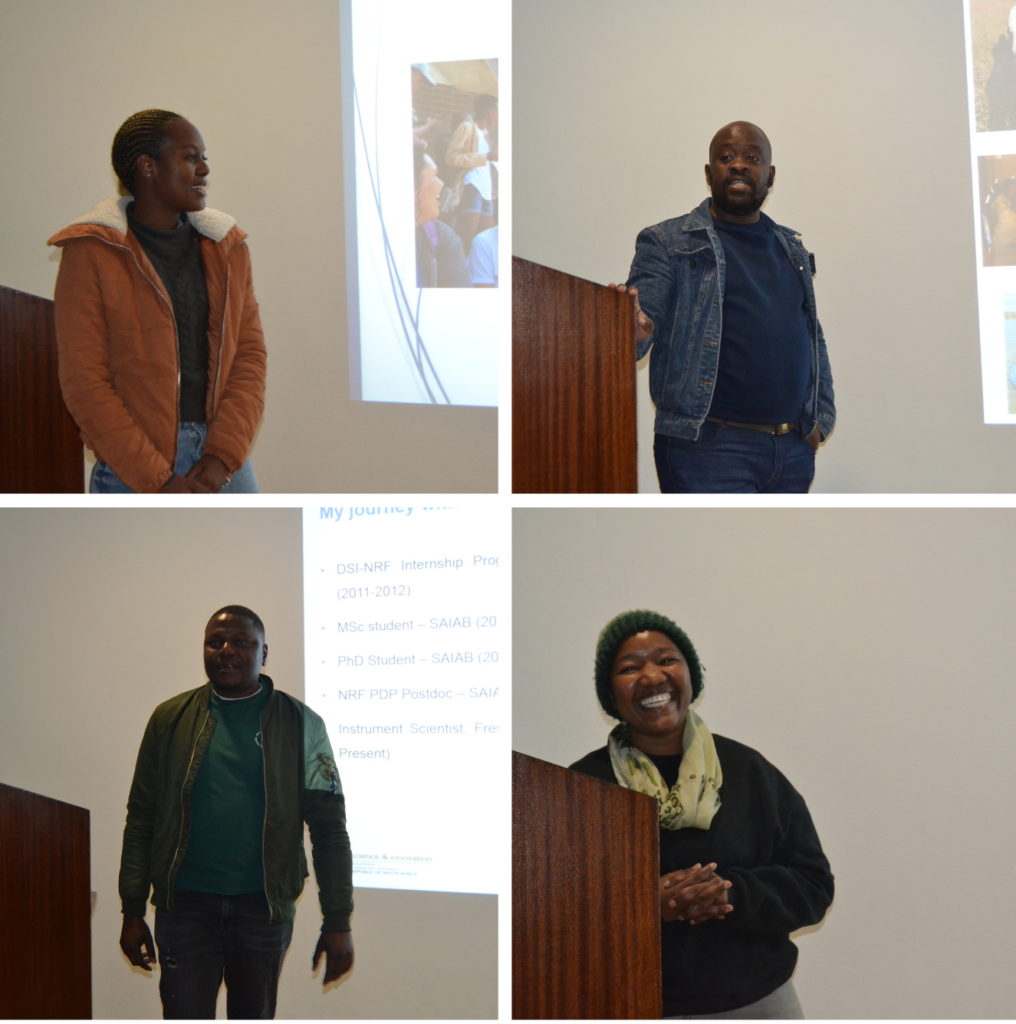 The NCBF recent meeting stands as a testament to the organisation's commitment to improving employee relations and addressing pertinent concerns. Moreover, the strategic rotation of meeting venues among different BUs holds the promise of fostering a unified NRF culture while strengthening inter-BU relationships. As the NRF continues to prioritise its employees' well-being and development, such meetings serve as beacons of positive change and progress within the organisation.