A momentous occasion unfolded on October 13, 2023, as the National Research Foundation – South African Institute for Aquatic Biodiversity (NRF-SAIAB) proudly witnessed the graduation of its dedicated staff, SAIAB-supervised students, and interns from Rhodes University. The day marked a significant milestone in their academic journeys and a celebration of their academic excellence.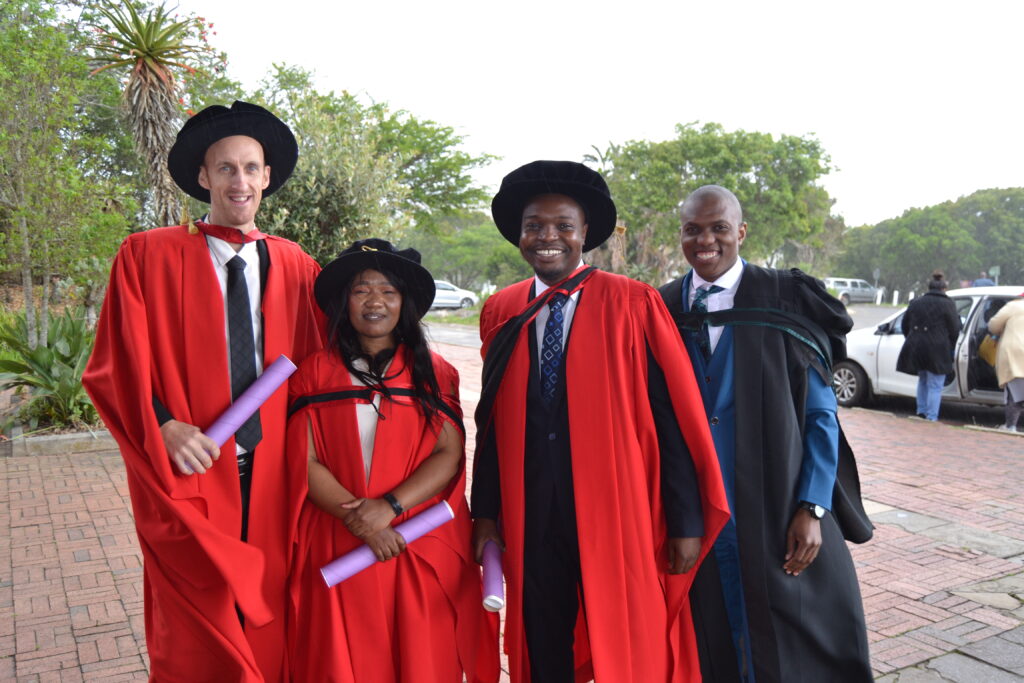 From left Dr Matt Parkinson, Dr Yonela Sithole, Dr Tadiwa Mutizwa & Xolani Nabani
Among the graduates, Xolani Nabani was awarded an MSc degree, signifying his outstanding commitment to academic excellence and research in the field. His achievement is a testament to the high standards of education and mentorship provided at NRF-SAIAB.
The spotlight shone even brighter on Yonela Sithole, Matt Parkinson, Tadiwa Mutizwa, Katrina Heckendorn, Pule Mpopetsi, and Ralph Watson, who proudly received their Doctor of Philosophy (PhD) degrees. These scholars have displayed exceptional perseverance and passion for their research, making significant contributions to their respective fields.
The success of these graduates highlights NRF-SAIAB's dedication to cultivating a culture of academic and research excellence. The institute has consistently supported and nurtured talented individuals, equipping them with the skills and knowledge needed to excel in their respective fields.
As these accomplished graduates move forward in their academic and professional careers, the expertise they have gained during their time at Rhodes University and their connection with NRF-SAIAB will undoubtedly continue to bear fruit. Their contributions to the fields of aquatic biodiversity research are anticipated to have a significant and lasting impact.
NRF-SAIAB extends its warmest congratulations to the graduates. Their success serves as an inspiration to aspiring researchers and scholars, highlighting the potential for making significant contributions in the field of aquatic biodiversity research.