Women in science shine at the Rhodes University 2023 graduation during International Women's Month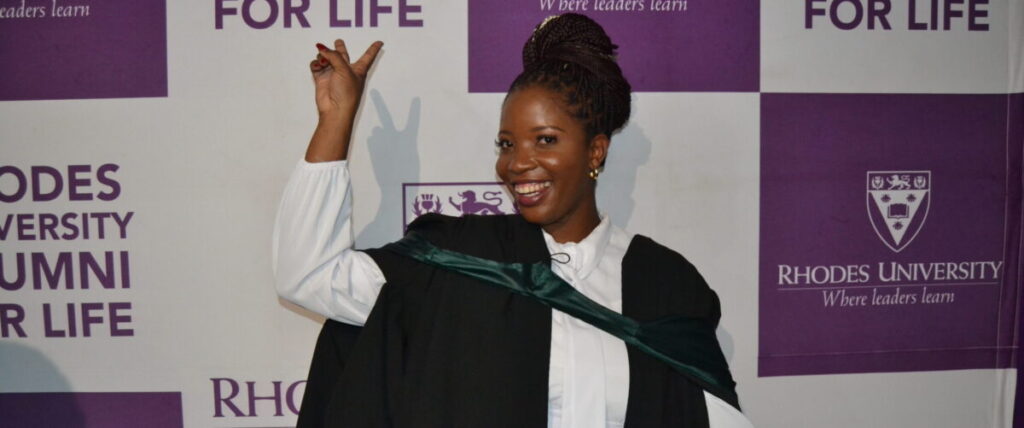 MSc graduate Annah Mthombeni after her graduation ceremony on 29 March 2023. Photo: Andisile Klaas.
By Andisile Klaas (SAIAB Communications Intern)
March is widely known as International Women's Month, while 8 March is recognized as International Women's Day. This recognises women's impact on society and celebrates the social, economic, cultural, and political achievements of women. During the month of March, the South African Institute for Aquatic Biodiversity (SAIAB) also celebrated four of its female students who graduated from Rhodes University.
SAIAB student Lauren Bailey was awarded her PhD degree, while SAIAB students Vuyo Mxo, Annah Mthombeni, and Lomarie Janse van Rensburg, graduated with Master of Science (MSc) degrees on 29 March. Mxo is already working on her PhD.
Ross-Lynne Gibbs, although not supervised at SAIAB for her PhD degree, was also awarded her doctorate degree at Rhodes University. Gibb is now a Postdoctoral Research Fellow at SAIAB.
Janse van Rensburg says she pursued science out of a love for nature and from bringing snakes, mice, birds, spiders, and other creatures home with her. Initially, she wanted to become a veterinarian but discovered an interest in Zoology after realising that it involved working outdoors, taking care of animals, and not being confined to a desk in an office. All these qualities made it apparent that this was a career field she had to pursue.
Mthombeni's fascination with nature and school field trips ignited her interest in biological science. As a young adult, Mthombeni discovered a connection to the ocean. Since then, was eager to learn more about the sea, other aquatic systems, and their connection to humans. Mthombeni cited a visit to the Antarctic Marginal Ice Zone as part of the 20-day SCALE Winter 2022 expedition as one of the most memorable highlights of her career.
Both Mthombeni and Janse van Rensburg enjoy being women in science and have hopes of becoming role models to other young women in science and academia in general. Janse van Rensburg said she would love to offer the same support she had to other women in science while Mthombeni is the first graduate in her family, automatically making her a role model and inspiration to people in her home village.