Joint press release – SANBI, SAIAB, UCT, and the One Ocean Hub
29 March 2023 – A diverse team of scientists have returned from a month offshore in a groundbreaking expedition that advanced the capacity, technology, and multidisciplinary knowledge for better management of South Africa's oceans. The main aims of this research cruise were for emerging researchers and postgraduate students from South Africa and Namibia to develop skills in offshore research, collect data to support their studies and to build the research teams that we need to solve the changes associated with developing a sustainable oceans economy. This expedition was different in that it was developed and led by emerging researchers themselves and in the new technology and depths reached while sampling the marine environment.
Deep capacity
Ten students from seven different universities and institutes participated in the cruise facilitated by the South African Institute of Aquatic Biodiversity (SAIAB) and the South African National Biodiversity Institute (SANBI). This included the University of KwaZululu Natal, Rhodes University, Nelson Mandela University, and the University of Cape Town. Oceanography sediment and biodiversity data were collected to contribute to three Ph.D. studies and two Master's theses with additional collaborative publications spanning multiple disciplines underway by the group. The team relied on standard and new technology for ocean sampling using remote visual tools to obtain imagery of the seabed, Conductivity-Temperature-Depth profilers (CTDs) to measure changes in ocean variables with depth and conducted surveys of marine species used in medicine and ritual in East London. Technician JJ Forgus developed skills in collecting specimens from the depth using a remotely operated vehicle (ROV) with a claw that can be used for targeted specimen samplings. SANBI emerging researcher gained experience as a Chief Scientist, a rare opportunity for a young scientist.
Deep vision
Of the 29 remotely operated vehicle (ROV) dives conducted by the team, two of these presented an opportunity for invertebrate samples to be collected, whilst some excellent footage of never-before-seen habitats, including deep-water canyons, sticky mud habitats, as well as creatures rarely witnessed in situ collected during the remaining dives. Two dredges and 18 sediment samples were achieved to gather invertebrate samples to be used in the Foundational Biodiversity Information Programme's (FBIP) SeaMap project recently awarded to the Egagasini Node of the South African Environmental Observation Network (SAEON). This project is aimed at developing South Africa's marine invertebrate DNA barcode catalogue and will also produce the country's first data-driven ecosystem map using species records from visual surveys. Safiyya Sedick, a team member of the capacity development cruise, is the coordinating officer for this tremendous undertaking. The DNA barcoding efforts will support future foundational surveys where simply by sampling water and sediments, researchers can gain knowledge about likely species present in an area.
A total of ten deepsea lander deployments were accomplished, establishing the record for the deepest lander dive in South Africa thus far at a depth of 1036 meters. Pressures at these depths exceed 100 times those experienced at the surface, so not only are the creatures adapted to these conditions truly something to behold, but it is also testimony to the progress made in maritime engineering. Those involved in this enterprise, including Dr. Anthony Bernard, made great strides in bringing our region to the forefront of what is possible with deep-sea exploration. The expedition, which spanned 157 hours at sea, covered a total of 901 nautical miles, proved to be a transformative experience for many of the crew, as told in a series of interviews conducted over the course of the trip.
Deep solutions
The expedition team are investing in science communication and ocean literacy- a sharing of diverse sets of knowledge across knowledge types and knowledge holders including disciplines, groups and generations. Building ocean literacy is an ongoing process; one that will continue over the course of each scientist's journey, as the ocean and social systems we seek to protect are ever-changing. That is why a dynamic, integrated, and collaborative approach is needed for the sustainable and equitable management of our oceans. The capacity development and transdisciplinary components of the expedition sought to overcome the old narrative of separate sciences, to draw from the diverse pool of expertise created by the multiplicity of team members, so that learning could be facilitated, which better serves society and our seas.
In reflecting on the multi-disciplinary, multi-institutional and multi-generational aspects of this expedition JJ Forgus, an Instrument Technician at SAEON, said the following:
"Everyone works in their own bubble…and they never get the opportunity to interact, to spread knowledge, to hand over the mantle, and to discuss issues that they may have had, that might help other people at different institutions. So, this multi-institutional, multi-cultural, multi-diverse, sort of, mesh that this trip is doing is amazing to me. Besides learning about the science, I have learnt so much about everyone else."
And Ndamononghenda Lipuleni Mateus, a Namibian PhD student at UCT, summarised the experience as follows:
"Transdisciplinary research is allowing yourself to live in somebody else's world."
In addition to the professional development that occurred, a profound sharing on a personal front followed; new connections and appreciation for one another resulted from shared experiences. The morning that was spent at Gompo Rock, where Loyiso Dunga (Parley for the Oceans and SANBI) told the story of Makhanda Ka Nxele to several team members, was truly special, and one for many. This allowed our young scientists to be exposed to the socio-cultural element of marine spatial planning and draws on work that the 'Deep Connections' project (a project funded through the National Research Foundation's African Coelacanth Ecosystem Program or ACEP) is undertaking, in collaboration with the One Ocean Hub and the 'Coastwise' project, for mapping Culturally Significant Areas. The full story of Gompo Rock can be found at https://youtu.be/IPYFx89AV0s or on the Mzansea Instagram page (https://www.instagram.com/mzansea/), as can posts about the technology used, the interviews conducted, and highlights from footage captured by the deep-sea landers.
Editor's Notes
This expedition was made possible by the One Ocean Hub (OOH) – a research initiative that is facilitating a more integrated and representative approach to sustainable marine management – bringing people from varied disciplines and dissimilar backgrounds together under the umbrella of collaboration.
The team includes researchers from two projects; both funded by the National Research Foundation's African Coelacanth Ecosystem Program (ACEP), formed following the discovery of a living population of coelacanths in 2000. The team sought to capture more footage of the enigmatic, rarely witnessed 'living fossil' off the Amathole region, but this was hampered by big seas and fast currents, making the sites thought to harbour coelacanths near impossible to reach. These projects, entitled Deep Connections and Agulhas Bank Connections, are led by scientists from SANBI and UCT respectively. Both projects seek to advance our knowledge of marine ecosystems through classification and mapping and to highlight the connectivity that must be accounted for in managing marine ecosystems. This includes land-sea connectivity, connectivity between the shelf and deep sea, connections established by the watery medium that is the ocean, and importantly between humans and the ocean. In line with the Capacity Building element of the One Ocean Hub, the Cruise was created by emerging researchers, for emerging researchers, and both projects feed into the multi-disciplinary approach for more integrated research and marine management.
Contact:
For further information and other media queries please contact:
Prof Kerry Sink, SANBI, Tel 0828310536, k.sink@sanbi.org.za
About the One Ocean Hub: The One Ocean Hub is led by the University of Strathclyde (Glasgow, UK), and it has 18 partner organisations and 21 research partners across the world. The Hub is funded by UK Research and Innovation (UKRI) through the Global Challenges Research Fund (GCRF) – a key component in delivering the UK AID strategy that puts UK-led research at the heart of efforts to tackle the United Nations Sustainable Development Goals.
About SANBI: The South African National Biodiversity Institute (SANBI) is mandated to monitor and report on the status of the Republic's biodiversity. Its activities include undertaking and promoting research on indigenous biodiversity and its sustainable use; establishing and managing collections of plant and animal specimens; managing and maintaining all National Botanical Gardens, with their facilities for horticultural display, environmental education, visitor amenities and research; collecting and disseminating information about biodiversity; assisting in the development of a national biodiversity framework, including bioregional plans and strategies; and coordinating programmes in conservation and sustainable use of indigenous biological resources and the rehabilitation of ecosystems.
About SAIAB: The South African Institute for Aquatic Biodiversity (SAIAB) contributes to two National Operation Phakisa Labs through which South Africa has identified the potential to develop the Biodiversity Economy and the Blue Economy. With a significant amount of funding from the Department of Science and Innovation and the National Research Foundation, over the last 10 years, SAIAB has developed several high-level platforms capable of undertaking research in various environments which have positioned the Institute as an innovative leader in aquatic biodiversity research. All of SAIAB's activities – research, student supervision, and platform provision – support the Higher Education sector in the education, training, and development of the aquatic managers and researchers of the future.
Images and suggested captions: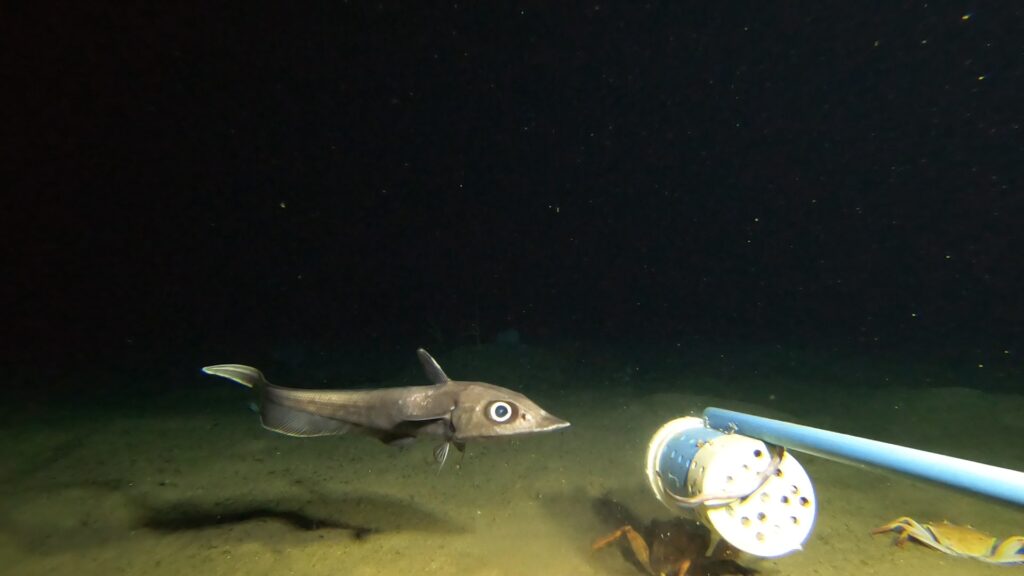 Grenadier fish and two deep-sea crabs captured on camera at 1000 meters using the lander technology, debuted in South Africa by Dr Anthony Bernard from NRF-SAIAB. The deepest dive reached 1036 meters. Some of the more interesting observations captured have been turned into reels to allow the public to witness some of South Africa's iconic deep-sea animals. See https://www.instagram.com/mzansea/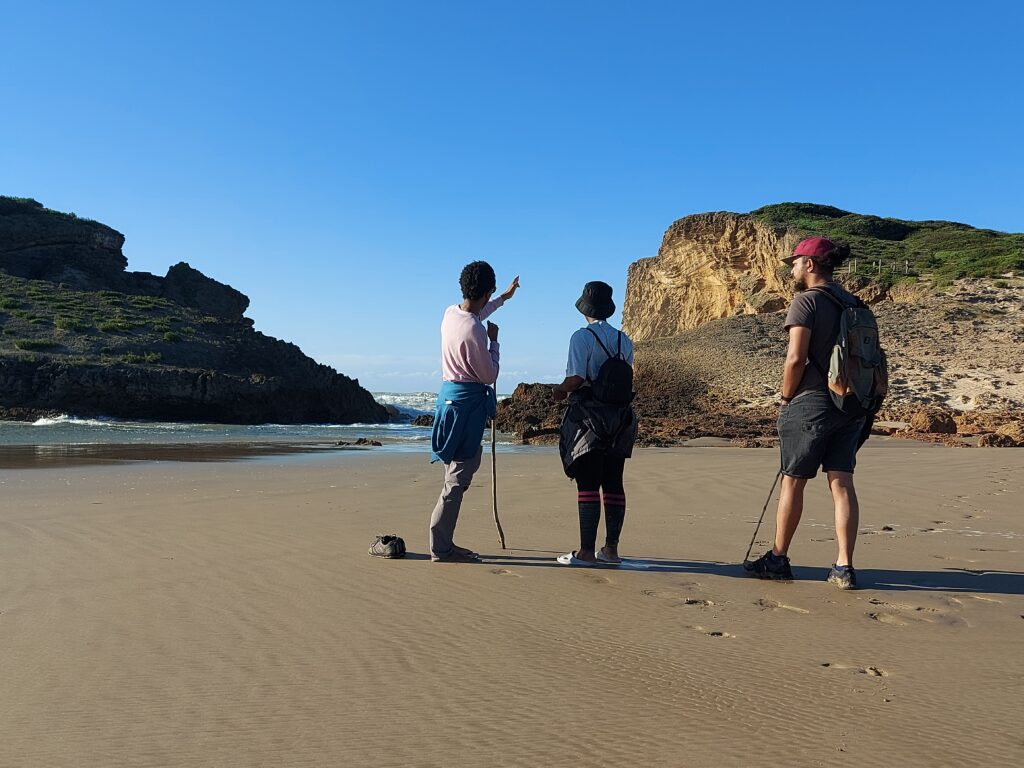 As the One Ocean Hub (OOH) uses transdisciplinary research methods, the team also took part in socio-cultural research, including work to identify and map Culturally Significant Areas, such as Gompo Rock (https://youtu.be/IPYFx89AV0s).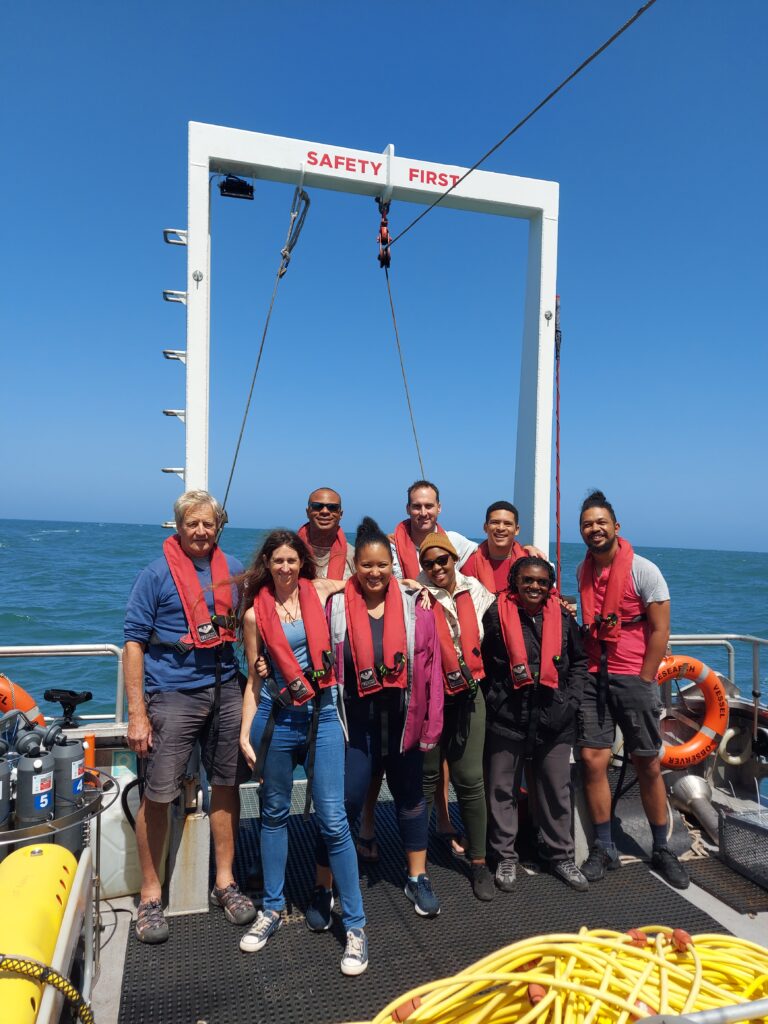 Some of the team from the One Ocean Hub (OOH) Capacity Development Cruise on the South African Institute of Aquatic Biodiversity (SAIAB) R/V Observer. From left, back row: Ferdy Jacobs, Ryan Palmer, Luther Adams, and JJ Forgus. From left, front row: Pete Fielding, Prof. Kerry Sink, Jody Oliver, Caroline Sejeng, and Ndamononghenda Lipuleni Mateus. Pete Fielding was a visiting scientist from East London who mentored Professor Sink when she was a scholar and student working at the Oceanographic Research Institute in Durban. Dr Fielding was amazed at the technological advancements in obtaining visual samples from South Africa's deep sea.