The NRF-SAIAB hosted its fourth instalment of the Student Symposium on Friday, 9 December 2022. The symposium provided an opportunity for SAIAB postgraduate students to showcase their work to a public audience, featuring more than 30 research talks which were presented under four general categories:

1. Freshwater Ecology and Biodiversity
2. Interverbrate and Larval Biology and Ecology
3. Molecular Biology and Systematics
4. Fish Biology and Ecology

This virtual symposium aims to stimulate interaction and promote the exchange of information on regional, national and international developments in aquatic biodiversity. The platform encourages SAIAB postgraduate students to share their research, engage in open discussion, and to learn from each other – And most importantly, for SAIAB postgraduate students to showcase their current research highlights to the general public who are non-science specialists as well as aquatic biodiversity researchers from varying backgrounds (biologists, oceanographers, postgraduate students and other scientists).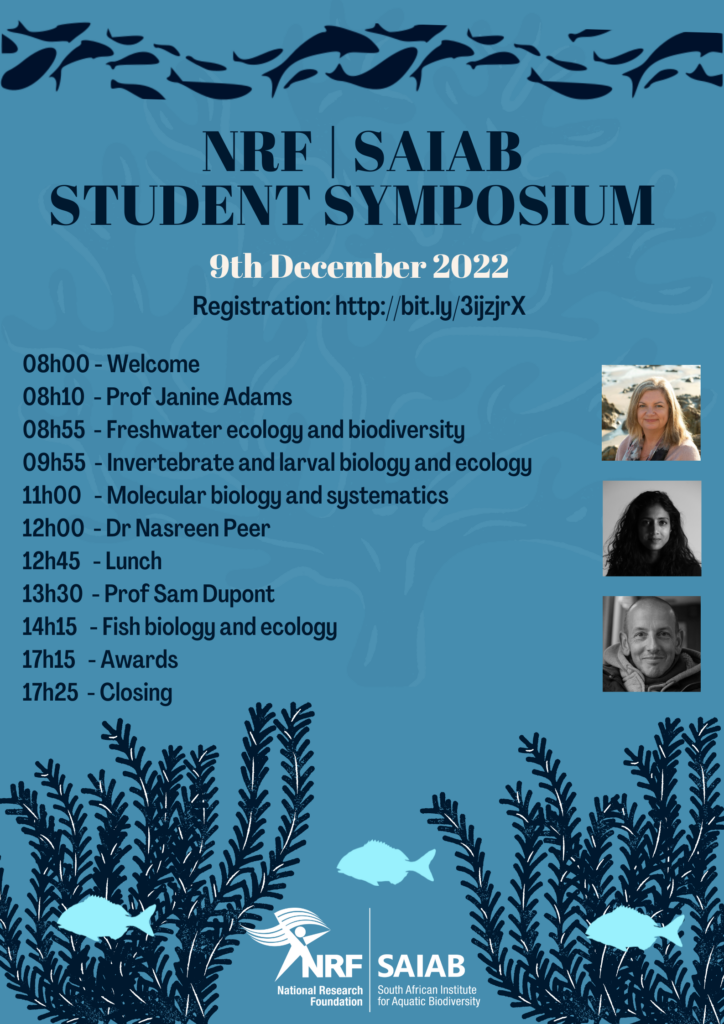 The symposium featured three special guests who gave keynote presentations: Professor Janine Adams (DSI/NRF Research Chair for Shallow Water Ecosystems), Dr Nasreen Peer (Lecturer at Stellenbosch University) and Professor Sam Dupont (Senior Lecturer at the University of Gothenburg and consultant the International Atomic Energy Agency – IAEA).
Click here to download the BOOK OF ABSTRACTS
Click here to download the PROGRAMME
The recordings of the Student Symposium presentations are available from this Link: https://www.youtube.com/playlist?list=PLbDylBDlLLT1_AOH8vATS2KHy7Ukd88tU